Don't just keep up. Stay ahead.

Big in interim capacity, excellent in consultancy. That's EIFFEL in a nutshell. Set up into compact teams, this is a service provider that helps organisations improve their performance, both in terms of public and profit. And always moving with the times. By fulfilling temporary positions, designing smarter processes, implementing technology and putting strategies into action.
About EIFFEL
Almost 30 years ago, the founders of EIFFEL were foreseeing changes that needed to be made in the world of interim services. Faster, smarter, more pragmatic. EIFFEL was founded, named after engineer Gustave Eiffel. An unconventional thinker, known for his solid constructions. Today, EIFFEL is known as a solid business partner, with more than 300 clients.
Partnerships in top-class sport over the years have been revolutionary. The partnerships in basketball, swimming and hockey, in particular, were groundbreaking. EIFFEL currently has 12 top athletes and coaches who work as talent coaches.
30
years with interim professionals
8,2
average rating of our customers
Partner in business operations
EIFFEL helps move with the times. Quick fixes to keep business operations in order, or long-term, sustainable processes to set a new course. Through extra manpower and added expertise, or working smarter and more efficiently together, they are the team behind your team.
The lawyers, financial experts and business economists excel when combining thinking and doing. With a peak over the horizon, with two feet firmly on the ground. They integrate seamlessly into your team, even remotely. And while EIFFEL is busy improving basic performance levels within that team, you can look ahead.
Legal
Good legal support on any issue. From outsourcing legal process to fundamental matters and from administrative law to private law. For companies & government bodies.
Finance
Improving financial processes and providing additional cover in challenging times. For companies & government bodies.
Data & Analytics
Tailor-made large and small data solutions. For organisations that want to work better and more efficiently.
Supply Chain
Solving external and internal disruptions in the Supply Chain with interim capacity and project management.
INTEGRATED PROJECT MANAGEMENT
Controlling large and small projects in the physical environment.
ENERGY MARKET
The right people to manage the energy transition. In the primary process of both network companies and suppliers.
HEALTHCARE
Increasing efficiency and focusing on prevention throughout the healthcare chain.
FINANCIAL INSTITUTIONS
Complaint management, implementation of new laws and regulations and repair work.
Working at EIFFEL
We are EIFFEL. And we help organisations improve their performance, both in terms of public and profit[JS1] . By moving with the changes, designing smarter processes and implementing strategies. Or by filling positions on a temporary basis. We impact A-level companies and see start-ups grow into scale-ups, right before our very eyes. This diversity of organisations, projects, growth opportunities, cultures, visions and people, makes working at EIFFEL special.
Working at EIFFEL means lifelong learning. Together, we make our solutions smarter and work hard on your areas of expertise. Continuous growth, both in knowledge and skill set. Don't hesitate to come by and introduce yourself.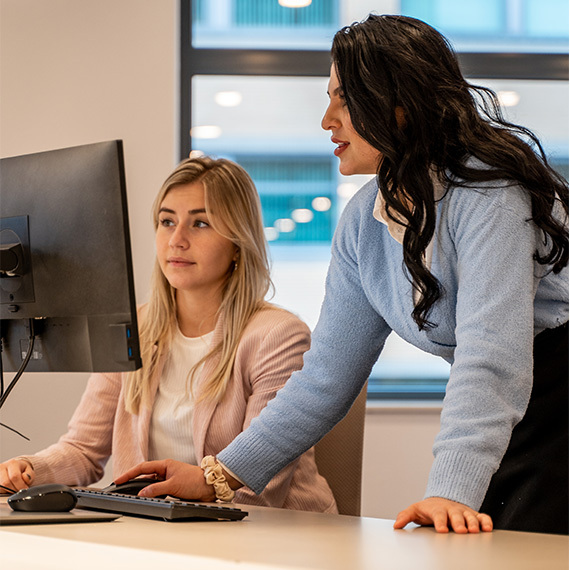 A better we is a better me
'Eiffelers' never work alone. Simply because EIFFEL believes in the power of collaboration. It's a tight-knit community: a network of teams in which all disciplines and expertise come together. Authentic professionals with an expansive mindset aimed at growth, getting everything and more out of itself and the clients every day. They help each other move forward and EIFFEL has a positive impact on the performance of companies, the government and society as a whole.